Lawton, Oklahoma 73501-2464
* Fort Sill * Just Up The 44 Freeway.
At Highway 7 / Lee Avenue Exit.
BRING ALL OFFERS.
21,000 Sq Ft Space To Be Leased All Or Part Or Sold As One Parcel
209 SE "J" Avenue - 6,000 SF , 4,500 Office / 1,500 Warehouse, No Vancancy.
211 SE "J" Avenue - 15,000 SF Warehouse, Can Be Divided.
Excellent 2002 construction improvements. Excellent Freeway Access.
On Large fenced 45,297 SF parcel with plenty of parking and vehicle storage.
Insulated, Heated, Skylights, 3 Drive-in Doors, Truck Dock, Office Air Conditioning.
Rent Fixed For 3 Years.
Warehouse Building 15,000 SF Insulated - Heated - Dock and Drive-in Doors, Storage - Fenced Lot 45,297 SF
*** Also May Rent Only A Portion Of Property.***
May Rent only Front Half the Warehouse Building 7500SF with Truck Dock, Drive In Door & Street Frontage $1900,
May Rent Back Half of the Warehouse Building 7500 SF Drive In Door $1600,
May Rent Entire Warehouse Building 15,000 SF $3500.
For Sale $565,000.
Email Management. Telephone Management (713) 876-3766.
Present your Ideas.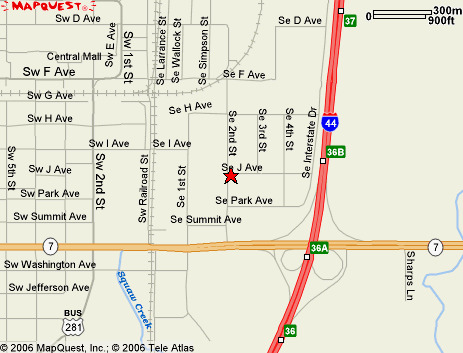 Exit West From Hwy 44 At Lee Avenue/Hwy 7,
Turn Right/North At First Available Street, Next To Motel 6, Onto SE 2nd Street,
Turn Right Second Block Onto J Avenue, Property On Your Right.
--------------------------------------------------------------------------------

HOT LISTINGS RENTALS MLS LISTINGS INFORMATION
BROKER'S BACKGROUND EMAIL 3REALTY.COM HOME PAGE